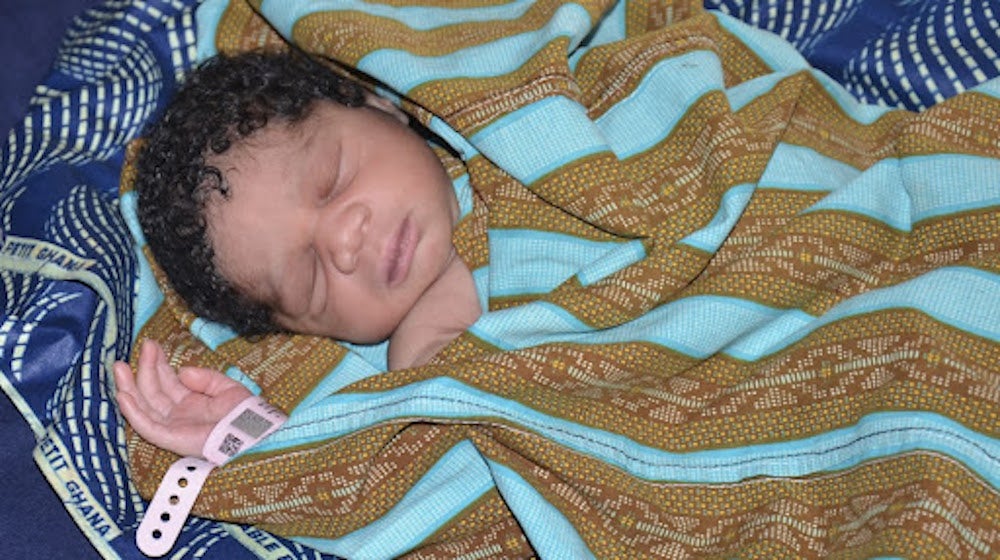 In Burkina Faso, iCivil (a digital Civil Registration and Vital Statistics platform where births are registered in real-time) began with a pilot project in ten maternity wards in the capital of Ouagadougou. The project trained midwives to use smartphones to register births directly into the national system. With the UNFPA support, a good idea has become a transformative intervention with the government leading the process. A collaboration was established that is already changing lives across the country and a team from UNFPA Burkina Faso worked with developers and government to deploy and adapt this innovative solution.
Before iCivil, obtaining a birth certificate in Burkina Faso required long and dangerous journeys to the civil registry office in the place of birth. For some Burkinabès, this meant a distance of more than 600 kilometres — from East to West — across the country. "Sometimes it took three to four days for people to travel from the rural area where they gave birth, » said Mr. Ali Koné, a Program analyst with UNFPA Burkina Faso. « Once they were in the city where the civil registry office is located, people found themselves under the weight of administrative red tape that was confusing for people with little or no education."
With the travel to and from the city, it used to take parents at least a week to register the birth and obtain a birth certificate. For many families, this costly administrative process was neglected, leaving thousands of citizens without the necessary documents to access basic services, like health and education, without a proven identity or legal documentation. « The adoption of the iCivil platform allows people to avoid being caught out by the sixty-day legal deadline to register their child," said Mr. Bouda Maxime, the General Director of Civil Registration Modernization of Burkina Faso (DGMEC). "Midwives now perform birth registration directly into the central system from maternity wards at the health centers. »
Using smartphones and wristbands with unique identifiers, or "bubble codes", iCivil allows health workers to create a digital record of a child within moments of birth. It creates a digital, medical record that tracks the child's health throughout their lives. This essential step taken by midwives promotes a child's access to a lifetime of public services, far beyond health care.
« We will expand the platform so that the whole country can access their rights," said Mr. Koné. « Every person should be able to get their birth certificate by simply scanning their bubble code. »
He said the plan is to go further and make it easier for Burkinabes to obtain passports and track vaccinations and other civil status facts by assigning each citizen a unique identifier. « There are all sorts of areas where the platform can offer solutions; iCivil can have benefits for the whole population and facilitate the creation of a population register. »
According to Mr. Maxime, some of the main beneficiaries are mothers and fathers. « Registration was done right away at the health facility where the birth took place.
Parents have the option of going to any central registry office and getting a hard copy if they wish, as their child's information is secured in a national database. You can imagine how satisfying this is for the families and what a financial saving it is, as it helps avoid traveling when their children are born."
iCivil can capture the profile to obtain socio-demographic characteristics of mothers by accessing the central server. This is helpful in solving problems like maternal mortality, where younger mothers are more at risk. « By having information on their location, you can target interventions to ensure these mothers have access to contraception and antenatal care, and even advocate and sensitise communities to abandon child marriage as a form of violence against girls, » said Mr. Bahan Dalomi, a program analyst at UNFPA Burkina Faso who worked on the platform rollout.
With data, advice for birth spacing can be conducted for couples to reduce preventable maternal deaths and the unmet need for contraceptives.
The national server allows agents of the Directorate General of Civil Status Modernisation to see when a birth takes place and the location of the health center. The data helps health workers assess the age of the mother to idenify cases of child marriage. « With this information, you can target messages on child marriage for girls, the family and the wider community," Mr. Dalomi said. "We are trying to prevent children from getting married."
iCivil could help health professionals target family planning support. « When you see an early pregnancy or when a mother has multiple children in quick succession, you look at how you can provide contraception to these women, » he added.
Births, deaths, divorces and vaccinations will all be on the platform thanks to coordination between ministries through the creation of gateways that will allow the Ministry of Health and the Ministry of Territorial Administration, Decentralization and Social Cohesion to address each of the components under their responsibility. The platform, through its marital status module, will allow the Ministry of Justice to ensure the full protection of all citizens.
The iCivil information on marital status will enable the Ministry of Justice to locate gaps in legal marriages at the territorial level and to address them in a specific way through appropriate approaches to promote legal marriages. « iCivil will facilitate access to digital certificates for widows to enable them to enjoy their rights to the inheritance of their deceased spouses," said Mr. Maxime. "This means that the couple's assets will be easier to protect in the event of death or even divorce, especially for women and girls. This allows women to access legal protections even if their husbands die, which contributes to family cohesion and to social cohesion in general. »
Mr. Koné said that iCivil is still in its early stages of deployment and that the real power of the platform will become clearer over time. « It offers the opportunity to move towards the full realization of the three zeros by having irrefutable evidence. Without a doubt, we are making great strides with iCivil. »